select works

exhibitions

screenings

publications

sample works
-short films
-photography
-websites
-writing
-audio
-misc

grants/awards

press

background
-bio
-education
-day jobs
-community
-seeking...

contact

Robert Zverina: Select Works | Community & Curatorial
ARTisANAL: 20 Year Retrospective
Inspired by the unusual configuration of the landmark McAdoo Building housing Dendroica Gallery at 1718A E. Olive Way, I mounted an ambitious show of old, repurposed, and new work in a solo exhibition that utilized every square inch of space, right down to the stair risers.

Catalog: www.zverina.com/2017/0209.htm



ARTisANAL
Handbuilt site specific LED sign, 90"x27"




Picture of the Day -
www.zverina.com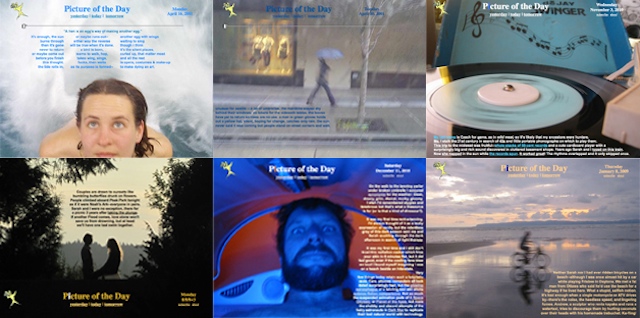 Launched in 1997, Picture of the Day is the longest running website of its kind--an unpredictable mix of photography, creative non-fiction, poetry, citizen journalism, and activist calls to action rooted in the Web's early idealism as an anti-commercial space where information was meant to be free and idiosyncratic voices could find an outlet liberated from market pressures. Much has changed in the online landscape since then but PoD has refused to keep pace. No ads, no gimmicks, and no single reductive idea guiding it, it's where Web v.1 lives in all its quirky, hand-coded, static HTML glory.

---
robZtv


The decisive moment street photography approach of Henri Cartier-Bresson updated for the digital age. Thousands upon thousands of brief pocket video clips--each 30 seconds or shorter--capture poetic glimpses of life's unexpected beauty, pathos, and absurdity, organized in chronological order for narrative effect. Ongoing since 2003 and presented in scores of venues, a syndicated cable access TV program, and 7 feature-length DVDs to date with a dozen more in the works.


---
4Shadows
An absurdist art collective masquerading as a rock band has met weekly since 2008 to record improvised music, genre-hopping between rock, blues, metal, punk, synth-pop, psychedelia, and more abstract forms that have no name. Regular collaborators are Will Kitchen, Rich Lehl, Jesse Paul Miller, Robert Millis, Matt Wainwright, and Robert Zverina.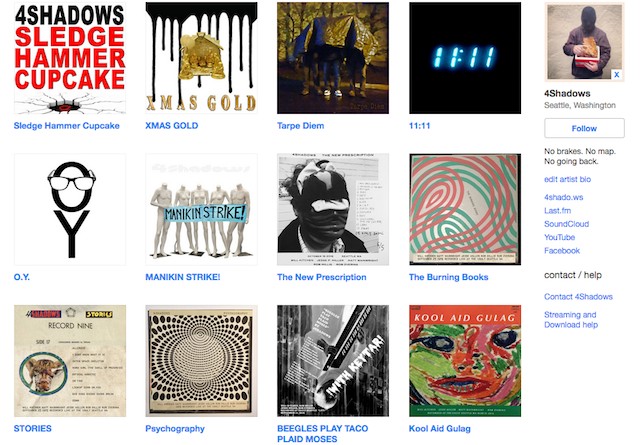 ---
Ghosts of Seattle Past Slidetalk, March 2016

Ghosts of Seattle Past, edited by Jaimee Garbacik, is an atlas of lost Seattle places and associated memories from those who have witnessed the rapid changes to this once affordable and down-to-earth city.

I contributed photographs and a short essay about Monkeyhut, an informal community center that thrived in the Fremont neighborhood at the turn of the (21st) century.

I expanded my essay into a slidetalk which addresses some of the principles of what typifies neighborhoods supportive of arts and activism--and how these same factors make them vulnerable to gentrification.

---


Encapsulated Sky, March 2016

Selected proposal for Giant Steps, a group show and competition curated by Greg Lundgren that challenged artists to imagine what they would do with a 48-hour residency on the moon.

Inspired by photographs from Apollo 12 which show waste gas from spacesuits glowing blue with refracted sunlight, Encapsulated Sky proposed to inflate a sphere with atmospheric gases to create a visual link to our "big blue marble" by bringing a little bit of our life-giving atmosphere to the inhospitable lunar landscape.

---
Poetry on Buses - Round Trip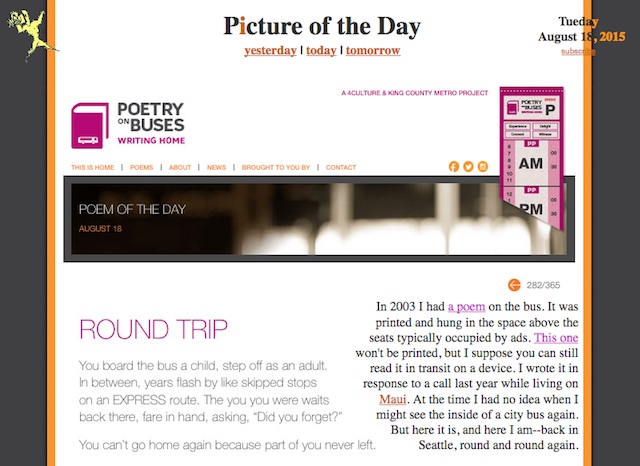 ---
The Happy Dance, EXCinema Exquisite Corpse (curated by Salise Hughes), December 2014
One of 13 filmmakers invited to contribute a short experimental film based on random opening and closing prompts. Given "happy dance" and "girl drawing" resulted in this narrative short.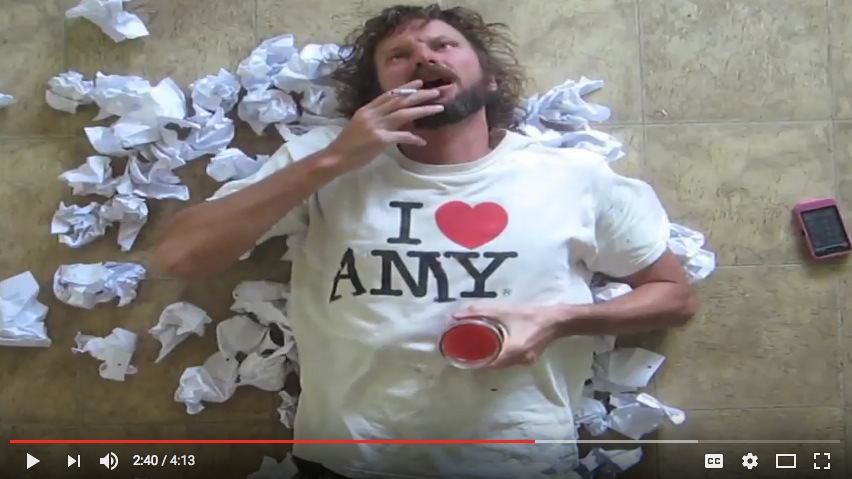 ---
Music Videos
Produced and edited for various bands using original and found footage, some staged, others candid.

---
Transformation or Transportation?, NEPO Open House (curated by Klara Golosova), September 2013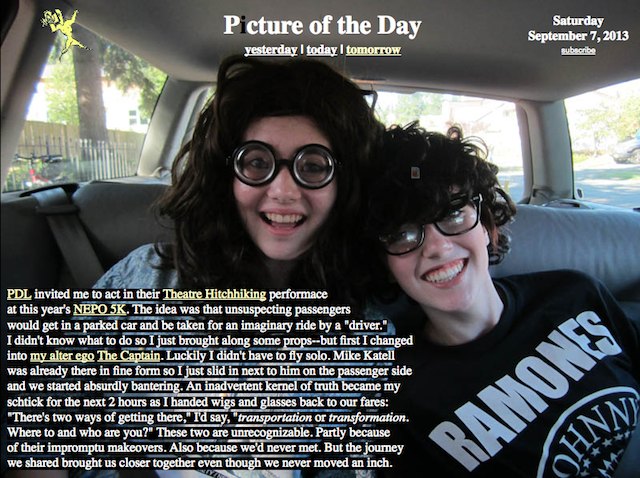 ---
Zone Defense, August 2013

I'd been attending Smoke Farm Lo-Fi Festival for years but never had a clear idea of what to propose there. Then I woke up the morning before it started and began writing down phrases which I thought could describe arbitrary delineations of space on the ground. I wasn't trying to provoke anyone but I didn't want to wait a year to go through the formal application process, plus claiming the space on the sly, guerrilla-style, seemed most appropriate to the idea of how real estate is an idea "agreed upon" by authoritarian decree, originated in theft and perpetuated by force, so I just went ahead and did it.


---
Projector Project
Since 2005 (formerly BYOP--Bring Your Own Projector), this sporadic happening invites artists and experimenters to project on bare gallery walls (usually in between shows) with no restrictions on types of device or subject matter. Spontaneity is key, with imagery often moving around the room and overlapping in surprising juxtapositions. Film and digital projectors, overhead and slide, as well as custom built devices have clashed and harmonized in venues including Priceless Works Gallery, Alibi Room, The Josephine, and Vermillion (pictured here). More to come!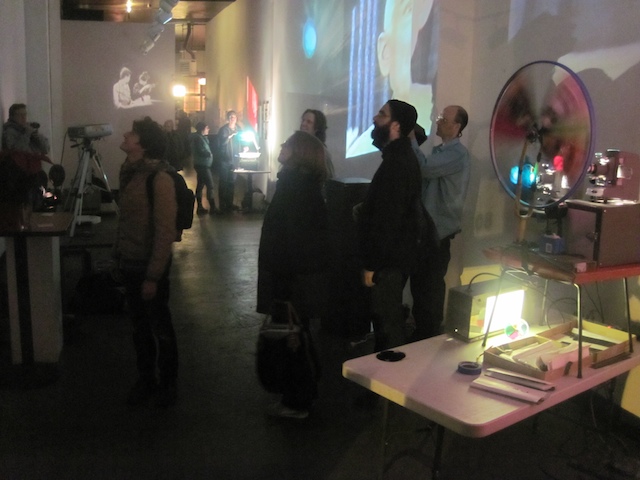 ---


BUZZ, 2012

Semi-autobiographical short novel about the mixed-up son of Czech political refugees who tries to find his way in the NYC suburbs at the end of the 20th century, torn between cultural expectations of material success and a quest for deeper meanings and connections.

At Buzz's climax, a viscerally rendered near-death scene delivers a cosmic, revelatory concept too deep to get into here. But it's worth all the angst and uncertainty that precede it. Seriously—I read and reread this scene with an anxious and inflated heart.

---
Cell Everything, Vermillion Gallery, Seattle (curated by Greg Lundgren), April 2009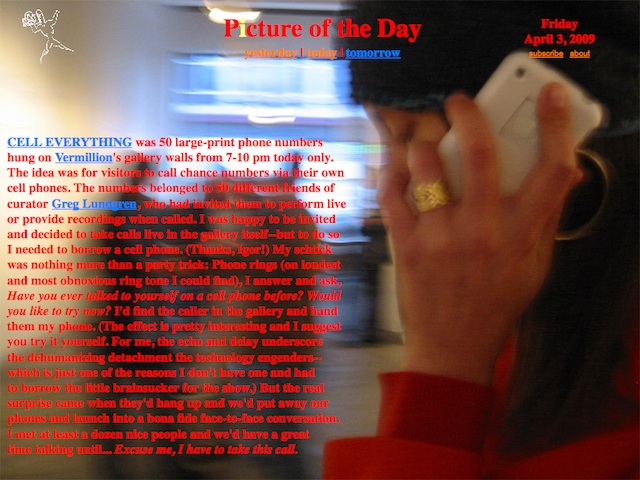 ---
Flattened Can Spiral #6, September & October 2008
As an advocate of public transportation, I was delighted to be included in Sound Transit's STart on Broadway group show. The sixth incarnation of the Flattened Can Spiral was the largest and most durable to date--1,300+ cans, each nailed to the asphalt with a galvanized roofing nail, displayed for 60 days. Read full account.
---
memory (w)hole, August 1 - September 27 2008
McLeod Residence, Seattle


In George Orwell's Nineteen Eighty-Four, history is constantly rewritten, with the old versions being tossed into the "memory hole"--an incinerator. memory (w)hole is a play on words that implies we inhabit a space between total recall and utter amnesia. This exhibit presents the largest compilation of Robert Zverina Short Films to date, with 24 hours of non-repeating microdocumentaries cycling chronologically in a comfortable cinema setting. In an adjacent gallery, 572 Picture of the Day web page printouts line the walls from floor to ceiling to form an "exploded book," a grand gesture in the futile struggle against forgetting.
---
Flattened Can Spiral, June 18 2007, Seattle
1,044 traffic-smashed can arranged into a spiral. Fourth in a series of temporary deployments.
Trash Cycle-Own, April 2008, Seattle
attempt to keep discarded materials from going to waste. Shown at Recycled Art Show.
---
AUTOBIOANTHROPOLOGRAPHY, DVD + 28p. booklet, 2007

On March 29, 2007 I gave a slidetalk at Henry Art Gallery called AUTOBIOANTHROPOLOGRAPHY--a combination of the words autobiography and anthropology which I use to describe the subjective history of our rapidly evolving culture recorded via microdocumentary video vignettes. The DVD is a 50-minute Robert Zverina Short Films sampler with accompanying 28-page color booklet which reproduces the lecture notes embellished with the same illustrations used during the slidetalk.

[ Download the booklet ]
---
---
439 Flattened Can Spiral
June 18, 2005, Seattle
Second in series, this spiral was constructed in the now defunct Priceless Works Gallery parking lot.
This piece is documented also at www.zverina.com/2005/0618.htm
1,000 Flattened Can Spiral
September 8, 2005, Seattle
Third in series, assembled for RE Store Recycled Art Show. If you stand close to the spiral, you might notice a curving of your vision at the periphery. Through this optical effect, the piece literally changes the way one sees.
This piece is documented also at zverina.com/2005/0908.htm
---
Inside Out, spring 2005

In early 2005, I started saving packaging--mostly the boxes processed food comes in. I'd find the glued overlapping seam, pull it apart, then hot glue the box back together inside out. I didn't know what to do with these boxes as they piled up, but I kept making more anyway. It finally occured to me that the only decent thing to do would be to return the boxes to their natural environments. So, like wounded animals rehabilitated in captivity, they are being reintroduced to the herd. The idea is to invert the purpose of commercial packaging which vies for the consumer's attention to induce a purchase. The blank nonmessage outdraws the competing messages and provides an oasis of calm amid the tumult of signs and colors, offering an empty box and blank canvas on which to reflect.

(When exhibited at Crawl Space in Seattle, a sample box was tacked to the wall beside a printout of www.zverina.com/2005/0525.htm)
---
163 Flattened Can Spiral
May 4, 2005, Seattle
The can spiral series arose from the persistent urge to repurpose discarded material in a practical manner. If this result is not practical, it is at least aesthetic. The cans were collected from the streets of Seattle. The collection and subsequent spiral constructions continue to grow. Spirals are fragile and temporary, displayed always in vulnerable public settings which invariably lead to cans' return to entropy. #1 in series.
---

Boycott 100 (poster) was created for the group show One Hundred Ways to Remove a President from Power
at CoCA Seattle, curated by Greg Lundgren, August 2004. One hundred corporate logos downloaded
from internet arranged to spell BOYCOTT; 100 posters printed and distributed for free.
---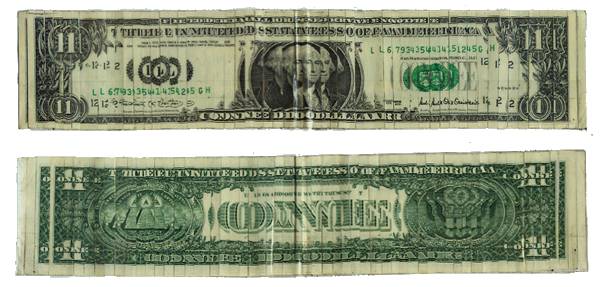 These two pieces from spring/summer 2004 owe a debt for inspiration to the work of Czech collage artist Jiri Kolar (whose last name, properly pronounced, sounds a bit like collage).

Stretched Dollar appears in the book 24 Hours in the Life of Seattle's Contemporary Arts, ConWorks Press, May 2004 and is available for purchase. It consists of two one-dollar bills sliced apart and interleaved, bound by packing tape.

Organically Grown was created for the group show Urban Dwellers at Priceless Works Gallery in Seattle, curated by Ragan Peck, July 2004. It was a temporary sculpture lasting until the apple rotted. Perhaps if it hadn't been organic the preservatives would have helped it last longer. Stickers courtesy of Fremont PCC, a local food co-op.
---
Import/Export, May 2004
Consolidated Works, Seattle

A smaller and potentially portable version of Everything &nd More (see below) installed in an 8'x8'x8' shipping container and presented as part of Frozen Moments group show curated by Dylan Neuwirth. Sadly, the effect wasn't as powerful in such a confined space and the entire piece self-destructed about 5 weeks into the exhibition--which in an odd way made it better. If the box represented a skull full of memories, its collapse symbolized the inevitability of forgetting and being forgotten.
---
Everything &nd More, February 2004
Priceless Works Gallery, Seattle
"This installation gives play to the casual snapshot, free, for the most part, of the usual earmarks of arty aspiration....The "everything" of the title is all that's contained in approximately 5,000 snapshots lining the walls, ceiling and floor of a small irregular gallery niche; the "more" is what happens when you crowd 5,000 snapshots—bits of life, throwaway moments, accidents—together. The point is the accumulation, but it's an accumulation that refuses to be subsumed into a whole; the tension of the discrete part and the engulfing whole keep this installation lively and disturbing."
[ Read Full Review | click pix to enlarge ]

Key

Entrance

Floor to Ceiling
| | | |
| --- | --- | --- |
| | | |
| Floor | A Sense of Scale | Ceiling |
---
792 Short Films, December 2003
Howard House, Seattle
"It is precisely the opposite of Andy Warhol's eight-hour film of a single view of the Empire State Building; instead of scoping in to notice tiny shifts in light or circumstance, your perception opens out like a lens. You are never bored, only longing for a few more seconds here or there, to know what becomes of something, to hear the end of the sentence. It makes you aware of your capacity for seeing and taking in and interpreting. It is all generosity...."
[ Read Full Review ]
---
Art Bikes, June 2002
Left: Liberated Stationary Bicycle (really a tricycle) pokes fun at the way some people pedal and pedal without ever getting anywhere. Exercise bicycle with front stand chopped and shopping cart wheels added in back. It steers from the rear with a little butt scooching. I'd like to see more of these made and then race them in view of a health club's window. Thanks to Bill Vaegemast for his mechanical assistance.
Right: Three-Wheeled Articulated Tandem is two dumpster bikes with front fork of rear bike hooked onto rear hub of front bike. Front bike has drive train removed; only back person pedals. Riding requires good balance and cooperation as bike pivots in the middle. Nate Everson provided mechanical assistance.
---
People Boxes, 12'x7' composite mural, OK Hotel, Seattle August 2000