Seattle Times/P-I, August 17, 2008
Art Straight Up, Hold the Olive by Sheila Farr
Photo of Picture of the Day 572 screenshot printout installation at McLeod Residence used to illustrate feature story on trend of art galleries with lounge/bars attached.
Seattle Times photo by Erika Schultz
---
NOW-NOW-NOW, August 6, 2008
Robert Zverina's AUTOBIOANTHROPOLOGRAPHY by Jeanine Anderson
[review of memory (w)hole at McLeod Residence]

...The video compilation is mesmerizing: you don't know how long each clip lasts and you have no idea what the next subject will be. A cat? A street scene? Making a purchase? Riding a train? The briefness of each segment, punctuated with a 5-second empty interval between each, leaves you wanting just a little bit more -- yet also happily anticipating the next segment. Channel surfing ordinary life, if you will. [ full article ]
---
SeattlePI.com, January 30, 2008
The Pain Followed Me Out The Door by Regina Hackett

Here's a shout out to filmmaker, photographer, writer and DJ Robert Zverina and his irreplaceable blog, Picture of the Day, which, since Jan. 24, 1998, he has maintained with the humble devotion of a monk tending a plot of medicinal marijuana.

He's a counterculture Alec Soth with the same sweetness and free-ranging intellect, but coupled in Zverina's case with an activist's interest in rubble and how to get on top of it.... [ full article ]
---
Seattle Weekly, March 15, 2006
Good Morning and Good Luck... by Laura Cassidy

...[C]heck out Zverina's Web site, which he calls Picture of the Day (www.zverina.com). On it, he catalogs (among other things) everyday ephemera culled from the salvage work he does for Ballard-based recyclers/resellers ReStore, poignantly getting at the waste of American consumerism. For example: An early morning photograph shows a charming 1940s bungalow softened by evergreens and dew.... Launched in 1998 before blogging was called blogging, the site utilizes the serendipitous nature of Web surfing to surprise you into thought. As with his SCAN show, Picture of the Day also effectively utilizes familiar formats—and, quite frequently, gorgeous, soothing images— to illustrate the cheerless nature of contemporary ignorance and modern need. [ full article ]
---
Seattle Post-Intelligencer, December 23, 2005
An Air of Rebellion Breathes New Life into the Visual Art Scene by Regina Hackett

["Infinity of Choice" cited as one of best exhibits of 2005.]
---
Seattle Post-Intelligencer, September 23, 2005
Robert Zverina's exalted state of reality: Finding grace in the commonplace by Regina Hackett

A few years ago, Seattle's Robert Zverina papered the floor, ceiling and walls of a small space in the now defunct Priceless Works Gallery with snapshots of his life.

The result was an amazing stream of visual consciousness, all those disconnected moments flowing into a cohesive whole. Walking inside was like walking into Zverina's brain and looking around.

It's a great place to be. Zverina finds eccentric grace in the commonplace. For him, reality is an exalted state, and his praises are stripped bare of sentimentality by the casual and democratic way he distributes them.

At present, he's showing short, deliberately cheap films on a big screen, little screen and curtained "polling booth," besides numerous artifacts, such as altered records and collaged record covers.

Step inside and vote for the tape of your choice. I vote for all of them, with a special nod to the footage of President Bush mixed with a driver's education, drunk-driving scare film. Sure scared me.
---
Seattle Weekly, August 3 - 9, 2005
Best Salvage Blog by Laura Cassidy

The entry for March 24 on Rob Zverina's photo-based blog, http://www.zverina.com, shows two empty rooms in a gorgeous Craftsman home. The text underneath tells you to "touch picture" to see the "after" photo, which shows the room partially but carefully demolished. Because Zverina's photos and accompanying text are so evocative, your instinct is to actually reach up and touch the screen—although, of course, he means only for you to mouse over it. Not all of Zverina's entries chronicle the salvage work he does with the Ballard-based recyclers/resellers RE Store, but those that do (about half) poignantly get at the waste and destruction of our consumer-driven society. The others just show that his life is more interesting and thoughtful than yours.
---
Art Papers, May/June 2004
Review of "Everything A& More" by Emily Hall

Photography has gotten so serious--enormous c-prints showing either everyday things given gravity and presence by size and glossiness, or elaboratley staged, crisply convincing worlds just south of reality. Even images of casual events have become large and imposing, their ambiguities writ large (think Ryan McGinley, Nikki S. Lee), but this studied casualness is almost entirely absent from Robert Zverina's Everything A& More. (Priceless Works Gallery, February 6 - 29, 2004).

This installation gives play to the casual snapshot, free, for the most part, of the usual earmarks of arty aspiration. (When they appear they are cheerfully amateurish.) The "everything" of the title is all that's contained in approximately 5,000 snapshots lining the walls, ceiling and floor of a small irregular gallery niche; the "more" is what happens when you crowd 5,000 snapshots—bits of life, throwaway moments, accidents—together. The point is the accumulation, but it's an accumulation that refuses to be subsumed into a whole; the tension of the discrete part and the engulfing whole keep this installation lively and disturbing.

Everything A& More is both specific and not. Every kind of snapshot you can imagine is there, but they are all, of course, personal beyond imagination. There's the everyday commemorative (people with babies, a box of puppies, unknown people horsing around at unknown events), the momentous occasion (weddings, hospitals), the random, the abstract, the stabs at a more artistic product (unreadable street signs, nature abstractly framed, a few attempts at the erotic)—a democracy of images, none arguably more important than another.

Finding a focus is unexpectedly difficult. With all those thousands of images, your eyes land on the same ones again and again, and it's not just what's at eye level, or brightest or sexiest. (You could develop a kind of psychological test based on what images we instinctively return to, like an inverted Rohrschach, not an abstract blot to find meaning in, but a series of relentlessly figurative images that you have to abstract.) Because you can't hold that many random specifics in your head for long, you look for people you know, familiar things, an organizing principle.

The impulse, of course, is to look for understandable narratives, and some stories are hidden in plain sight, such as a series of images of young men doing some half-naked provocative clowning around in a hotel room; right below, one of them appears at the altar, with his bride. The speed with which your mind leaps from gay assignation to bachelor party is something that snapshots encourage; they have no interest in the ambiguity that large prints trade in.

As it happens, Everything A& More is not "everything," but only the unsuccessful images that Zverina has collected over more than fifteen years of what he calls "compulsive photography." Zverina puts the "keeper" images where they belong—in albums, with friends—and keeps aside the rejects, although this judgment quickly becomes meaningless. These may well be the shadows of the moments deemed worth remembering, the B team, but they are just as intimate, perhaps more so because they're not their best selves—they invoke a more formal world (the world of "keeper" moments) without showing them.

"Compulsive" is a funny word to apply to the human mess shown here, although compulsive recording is the way to maintain some control over this mess, over how time slips away. Insisting on control—with a key to places and dates, with faces repeating throughout the installation as though they hadn't disappeared from your life—is protesting against the inevitable. Although the easy interpretation of this installation is uplifting—life in its stubborn irreducibility—reading Everything A& More in a more existentially depressing vein is also tempting.
---
The Stranger, January 8, 2004
ART TO COME: Young Seattle Artists Show Their Stuff by Emily Hall

Robert Zverina's 792 Short Films took me somewhat by surprise. At first glance it seemed to be exactly the kind of work that I'm so tired of: fragmented bits of video, something like six hours' worth of it, unanchored to any system, all things made equal, busily visual and exhausting. It took a good half-hour of watching--little blips of video shot on one of those tiny 30-second cameras--before the ideas began to cohere.

"Cohere" is perhaps not the right word for something of so many unrelated parts, but perhaps it's exactly right when language and art seem to work in opposition. In this case the elements of postmodernism work in opposition to that theory's tendency to break things apart beyond recognition, beyond the possibility of meaning; like Max Frisch's 1980 novel Man in the Holocene (which assembled seemingly objective information into a really rather personal narrative), the effect of 792 Short Films is cumulative rather than alienating. Here's a cat prowling across a roof; here's a girl in the shower; here's artist Jesse Paul Miller talking sort of dreamily to someone about something; here's some dishes, and someone laughing. It is precisely the opposite of Andy Warhol's eight-hour film of a single view of the Empire State Building; instead of scoping in to notice tiny shifts in light or circumstance, your perception opens out like a lens. You are never bored, only longing for a few more seconds here or there, to know what becomes of something, to hear the end of the sentence. It makes you aware of your capacity for seeing and taking in and interpreting. It is all generosity..... [ full article ]
---
Seattle Times, August 25 2002
Day to shed cars, smell the flowers by Bobbi Nodell

Dozens of bikers zipped through the city yesterday, dressed in T-shirts that read "Cars Kill," "Be Nice," and "Why Not?," spreading the word that being car-free can be carefree. "Car-Free Seattle Day," a grass-roots effort aimed at reducing the city's dependence on the automobile, is in only its second year. But this year's event had new ammunition: a proclamation from Mayor Greg Nickels declaring yesterday Car-Free Seattle Day.

The city did little to promote the event in comparison to other parts of the world, such as Bogota, Colombia, where the city center is closed to cars and violators face $25 fines. In fact, most people here had no idea it was Car-Free Seattle Day.

The participants — bike messengers, bike enthusiasts and a handful of families — hoped that by the end of the day they would be able to get more people thinking about lessening their dependence on cars.

"It just seems such an important issue," said Robert Zverina, a conceptual artist and landscaper who won a $5,000 grant from the city to put on the event. "Cars are bad for the environment, they are noisy, they isolate people from each other and they undermine communities."

Seattle-Everett reportedly has the fifth-worst traffic congestion in the country. The Department of Licensing says car registrations in King County increased from just over 1 million in 1995 to 1.2 million in 2001.

Zverina said he stumbled on the grant program for reducing car dependence when he was applying for a job with the city. He's lived in New York and Prague and said he was so inspired by the ease of public transportation in those cities that he's been on a mission to undo the prevalence of car culture in this country.

Zverina said he doesn't own a car and gets around the city by bus or bike, and rents a car when he needs to.

With the grant money from the city, he created a Web site, www.thinksmall.org, and developed pamphlets and fliers about the event.

Among those taking part was Terri Gilbert, the mother of three kids ages 6, 3 and 1. She said she loves taking the bus from Columbia City to her job at the University of Washington. Her husband, Scott Houghton, who works for a pharmaceutical company, said he drives a company car but rarely uses it.

"Seattle has an awesome public-transportation system," Gilbert said.

Louise Helbling, who just moved here from New York, said although Seattle doesn't have a subway system, she's not having a problem living without a car.

In fact, she prefers it. She biked from near the Central Area with her husband and 3-month old baby to lend her support.

"It's a great way to become less oil-dependent," she said.

They were one of 50-some bikers who gathered in Columbia City at the Bike Works bicycle shop and then rode in the Rainier Valley Heritage Festival Parade. From there they went to Capitol Hill to do some sidewalk art and then on Fremont to participate in Tour de Fat, a festival of beer and bikes.

Resources
Car-free Seattle: www.thinksmall.org
Way to Go: www.cityofseattle.net/waytogo/
---
KEXP, Seattle
Half hour interview on Diane Weems show regarding Carfree Seattle, August 2002.
---
Seattle Press, September 13, 2001
Alternative Transportation Education, Fremont Style by Julie Reinhardt

Sunday, September 16 [2001] kicks off the first ever Car-Free Fremont. Whether you are celebrating a day of independence from cars, or you just want to have fun without looking both ways before you cross the street, the day is filled with revelry from 9 a.m. to 9 p.m. Activities range from the creative Artbike Rally and Bike Decoration workshop, to educational panels on car-free living, to the downright goofy belly dancing couples' workshop. Though technically belly dancing is not a form of transportation, it is sans vehicle and much more fun than the morning commute.

The focus for this event is not just about reducing our use of cars, said co-organizer Sarah Kavage, it's also about creating community and "having fun together in a space that is typically filled up with cars...huge boxes of metal speeding through the streets."

Kavage and Robert Zverina have "had to really crunch to get all the permits together" since May after receiving a Car Smart Community Grant. The idea met enthusiasm and support from the Fremont Arts Council, the Neighborhood Council and regular Fremontsters. "This is a demonstration project. It's a start to get the idea out there that there are different ways we can structure our cities--around people rather than around cars," explained Kavage.

Rob Zverina, who "grew up in a very intense car culture--Long Island and New York, where it was pretty much assumed that cars were the way to get around." said he "realized there is a better way of living" after living in Prague for a year. "I was blown away by the mass transit system they have there. Since that time I've never wanted a car. They isolate people from one another, they pollute the environment and they literally kill 40,000-50,000 people every year. So there is a need to re-think our habit and demand better options."

Panel discussions and many attending advocacy groups will address our regional traffic and pollution problem. Seattle's move to third-worst traffic congestion in the country and the political gridlock this summer in Olympia over what to do about it make this event well-timed. The fact is that the average car in King County makes 12 vehicle trips a day, and nearly half of those are to destinations less than three miles away. States Kavage, "The more types of people who get involved in the dialogue the better. It's not about selling your car - you don't have to sell your car. There are no rules about how you go about this. All you have to do is open your mind to what else is out there. Even if you drive one less day to work, that makes a difference in the emissions you put out there."

Not all serious stuff, this event celebrates tomfoolery too. Don't miss the Roller Disco, local artists' bike-rack sculptures, and free in-line skating lessons. The movie "Breaking Away", a beer garden and auction all benefit Bikeworks, a southend, non-profit bicycle repair shop. Bikeworks runs community programs like Earn-a-Bike, teaching kids bicycle repair that lets them exchange work for a bike of their own. Oh - and did we mention the beer?

Kavage and Zverina hope grassroots support will take this idea to other communities, "We hope to set a precedent. We'd like to export the event to other communities in Seattle and beyond." For a complete schedule, go to www.thinksmall.org.
---
SusanFrombergSchaeffer.com, February 11, 1999
Seizing on Accidental Beauty: The Photographs of Robert Zverina by Susan Fromberg Schaeffer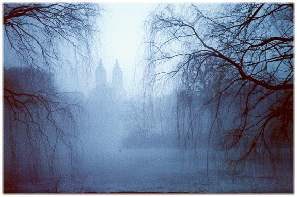 This picture of Central Park, taken by Robert Zverina, has become my favorite image of New York. When I lived on West 86th Street, I used to walk through the park to the East side, and the walk would remind me that even in that gray and gritty city there were soft and beautiful places, but when I moved to Brooklyn, I soon forgot about Central Park and its particular magic. This photograph, like so many others of Robert's, brings back memories directly associated with the picture itself, and finally retrieves a veritable cascade of memories, touched off, I think, by the beauty of the image, a beauty that manages to call to many other partly buried images of beauty that I recognize as soon as they return, and which I realize I have missed before they were brought back by the picture.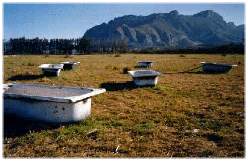 This is only one of the pictures of Robert Zverina's that I admire and have hung all over the walls of my house. At first, I admired photographs which were formally beautiful as well as affecting. Invariably, these pictures were surprising as well. One photograph, titled "The Day That Just Kept Getting Better," is a picture of a field with mountains in the background, and the field itself is filled with bathtubs that look, in this picture, as if they themselves were some kind of strange, grazing animals.

No one can walk around in New York without noticing the fire escapes that cover the walls of the smaller apartment buildings, but I doubt that anyone pays much attention to them. This picture, with its design made up by the fire escapes, somehow finds beauty in these old and rusted and constantly repainted metal exoskeletons. I cannot look at this picture without being reminded of family stories which revolved around events taking place on these fire escapes in a time before air conditioners, in a time when mothers went to work and left their children locked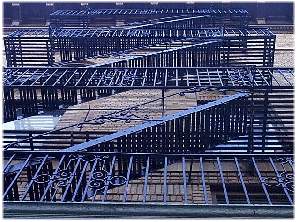 in the apartment, and the children came out onto the fire escape when their mother's called, and threw down the key to their apartment, first having wrapped it in a piece of paper.

There is something in his photographs that speaks of the amazing beauty which is accidental beauty, there for the seizing by anyone who can see it, and anyone who is generous enough to record it for others. There are photographs of objects reflected in puddles, in the hoods of cars, objects which then become distorted and entirely new and unfamiliar. Some of these images are stunningly beautiful. Others, like the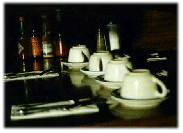 photograph of one person painting a wall while someone else looks on, somehow become emblematic of much larger spheres of activity, as if, should you look at them long enough, they come to stand for all human striving. These pictures speak for themselves, of themselves, and of many things beyond themselves. The woman's nude body, striped by bands of light so that she seems to become part tiger, is such a photograph. Human nature slides into something deeper and wilder here; it becomes, to me, a profound photo.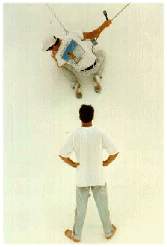 Robert's website, which has been growing for two years, is now a world of its own. Every day, there is a new picture and a new piece of prose. This site with its new picture becomes so addicting that on days when for some reason there is no new photo, I find myself terribly disappointed, as if I had been promised something to which I was looking forward and found only an empty box. Here he has endless photographs, each accompanied by a text. The cumulative effect of travelling through this remarkable maze of a website is something between reading a novel and seeing a film. Gradually, the lives of people who are young in New York today begins to emerge, the life of the author of the site representing his own life, as well as the life of a good number of his generation: the way those young people live now, as someone or other once put it.


The website chronicles his love affairs, his travels to Prague, the illness of his mother, his time spent with friends, the climbing of a mountain that nearly killed him, trips across country by train. Here there are many pictures that are truly accidental, little splinters of life--a friend's toes, an odd shot of a dog's owner, glimpses of what was going on at the time. These photos are entirely unlike the "formal" ones, like Central Park Blue, and on their own they might have trouble justifying themselves. But in this remarkable website, each of these splinters begins to move in the mind, as if, out of the corner of your eye, you were seeing a jigsaw puzzle assembling itself. "Here we are, and there we are," as Eeyore used to say.

I love these pictures, and it is a pleasure to have some of them here.

Contact Robert if you have anything to say about them. He writes hilarious e-mails.