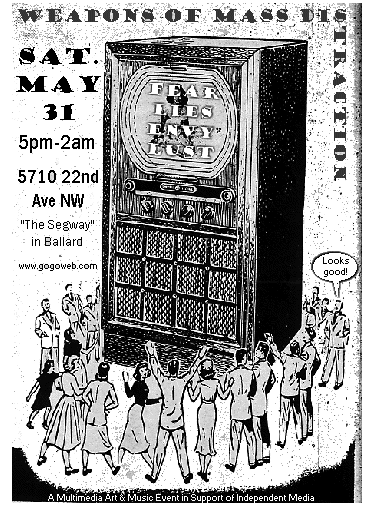 from Ed Shively:
"Weapons of Mass Distraction" - an ongoing forum to bring artists and activists together to create media awareness and to help facilitate discussion and true Democracy. Open to the public, this multimedia show includes speakers, video, graphic and performance art. We hope to continue this event on a quarterly or semi-annual basis to keep the public aware and engaged.

The focus for this initial event is to raise public awareness about the swift, stealthy and irrevocable changes Michael Powell attempting to push through the FCC as soon as early June, which would allow unprecedented concentration of media ownership in the hands of a very small number of Bush allies. The first phase of this deregulation happened under Clinton in 1996 and resulted in the media landscape we are in today - one that is heavily aligned with big business and which has allowed an unelected president to walk into the white house with very little of the public outcry reflected in the media.

Event benefits KBCS, 911 Media Arts, and the Independent Media Center.

Visit www.gogoweb.com for more info or
Download the CALL TO ARTISTS! [.pdf 193K]
Also seeking volunteers & contributions for the posterwall, sticker table, zine exchange, and media-related info booths. Call Steve at 206-850-1442.