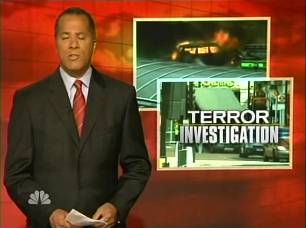 NBC Evening News - July 4 2007
For about a year now I've been playing with pulling frames from news broadcasts where the talking heads are blinking. Seeing no evil, turning a blind eye... you get the idea. Not sure what the final form will be. Tonight I felt some real excitement stringing all the blinkered moments together but the result wasn't so good. That's alright--it's the process that's stimulating; I love the exploration and experimentation. The journey is the reward, as my Grand Canyon t-shirt says.

It's kind of a lonely time here, but that's OK--I came here to focus. Besides my family, the thing I miss most is making music, so I've been getting my fix by assembling a youtube music video playlist. I think it's finished. Please enjoy it.

I worry that what I'm doing is frivolous. It feels like the avalanche has started and we're at the bottom of the mountain wondering if that not-so-distant rumble is thunder or what. I see what others are doing and wonder what I can do to help.