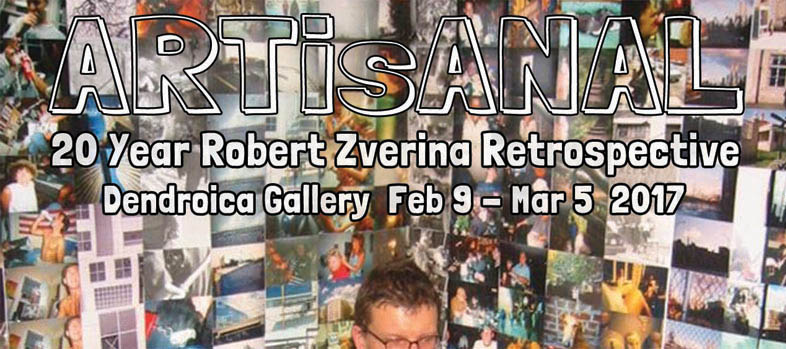 ARTisANAL: 20 Year Robert Zverina Retrospective (and some Looking Forward)
Dendroica Gallery
, February 9 - March 5, 2017




From the press release:
Hailed as "the supreme granddaddy of Seattle blogging," Robert Zverina celebrates 20 years of his artisanal website Picture of the Day with a multimedia retrospective of wall-sized photo montages, robZtv videos, and limited edition prints and art books culled from more than 2,000 hand-crafted online posts. ARTisANAL is both a joke on an overworked marketing pitch as well as an accurate reflection of Zverina's meticulous processes. This exhibition aims to bridge the gap between digital and 3-dimensional realms by sharing archival artifacts in a tangible social space.

(Click pix for hi-res versions.)

ARTisANAL
Handbuilt LED sign, 90"x26", site specific





photo courtesy Bruce Clayton Tom


#veilofmemory
1,400 35mm photo prints, 12' w x 20' h, site specific

Artist statement:
How do we construct memory? Photos can act as a window on the past to anchor and reinforce, but they can also distort through too careful selection and omission.

The 1,400 35mm prints in this 12-foot wide by 20-foot high photo curtain are my reject snapshots discovered in storage after 15 years.

They represent failed attempts and disappointments--pictures that didn't make it into an album, marginalized moments that in today's digital environment might have been immediately deleted, lost forever.

Actual objects are neglected in the age of "the cloud." Events are documented, shared, and disappear into the bottomless feed, whereas a print exists on its own, lies in wait ripe for serendipitous rediscovery.

Milan Kundera wrote, "The struggle of humanity against power is the struggle of memory against forgetting." The works in this exhibition address the need for tangible artifacts in the digital era. When you outsource your memories to third-party providers, you jeopardize not just your past, but your future as well.


---

It feels good to have 20 years of digital ephemera embodied in print and this weighty two-volume tome:


above: Writing on the Wall, 358 zverina.com printouts, site specific



right: Picture of the Day Selections, vols. 1&2, 636-page artist proof





---
First hung at the OK Hotel in 2000, this piece is slightly yellowed in places, testament to when smoking indoors was the norm, which to my mind adds to its value as a document of a specific time and place, long ago exhalations imbued in paper.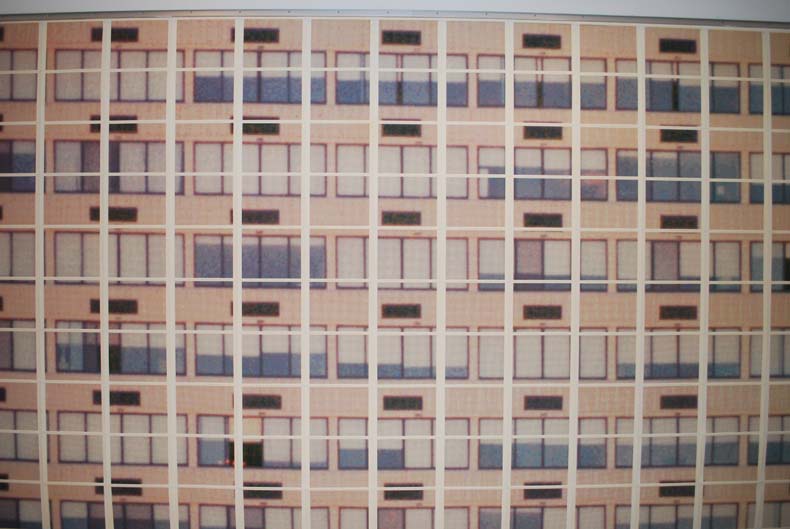 People Boxes (detail)
165 inkjet printouts from scanned and enlarged 35mm photo print (the back story)
13' 9" wide x 7' 5" high

---


All the Right Pieces in the Wrong Place
Custom jigsaw puzzle mash-up, 38"x29"

---

In A Police State... No One Is Innocent
Mixed media, site specific--poster, acrylic block, free stickers

---
---
| | |
| --- | --- |
| | Thank You For Not Driving, Archival metal print, 13"w x 20"h |
---


Dendroica Gallery is housed at 1718 E. Olive Way, a tall and narrow modernist cube designed and initially occupied by Benjamin McAdoo, the first African American licensed architect in Washington state.

It was visiting this unique building that inspired the show, my first since 2008. It's been a pleasure fitting my work to the strictures of the space.

As someone who works in the building trades, I wanted to accentuate its features. Adding mirrors to the risers of this flight of stairs brings attention to them and the visitor's act of ascending through a slightly disorienting effect--the first impression is that the stairs open on the interior space below whereas they really reflect the exterior view. Much of the photographic work in this show breaks the usual two-dimensional plane. Likewise, #pausetoreflect segments and scatters the viewer's reflection along receding planes.

This piece is a nod to Friedensreich Hundertwasser, the Austrian artist/architect/philosopher who used nonlinear arrangements and uneven surfaces to encourage conscious participation with the built environment.

#pausetoreflect
Site specific mirror installation, 31"x7" ea.

---

Left to right:
Writing on the Wall
,
robZtv
video, Robert Zverina himselfie,
4Shadows
Memorial Wall,
#veilofmemory
Press Release/Backgrounder:

Seattle, WA - Hailed as "
the supreme granddaddy of Seattle blogging
," Robert Zverina celebrates 20 years of his
artisanal
website
Picture of the Day
(www.zverina.com) with a multimedia retrospective at
Dendroica Gallery
, Feb 9 - March 5 2017.
This solo exhibition features wall-sized photo montages,
robZtv
videos, and limited edition prints and art books culled from more than 2,000 hand-crafted online posts.
Launched in 1997,
Picture of the Day
is the longest running website of its kind -- an unpredictable mix of photography, creative non-fiction, poetry, citizen journalism, and calls to action rooted in the Web 's early idealism as an anti-commercial space. Much has changed in the online landscape since then but PoD has refused to keep pace. No ads, no gimmicks, and no single reductive idea guiding it, it's where Web v.1 lives in all its quirky, hand-coded, static HTML glory.
ARTisANAL
is both a joke on an overworked marketing term as well as an accurate reflection of Zverina's meticulous processes. Whether cross-referencing thousands of off-the-cuff pocket videos, arranging found flattened cans into graceful spirals, or assembling elaborate photo mosaics, Zverina sifts and sorts large masses of data and materials, massaging them into integrated wholes that reveal more detail as one zooms in to the granular level. The impulse which guides his prolific documentary work is sweeping and reflexive; what he does with this prodigious output is deeply considered. A populist at heart, Zverina strives to make work that is accessible and affordable to a general audience.
Bio
Born in Liberty, NY to Czech political refugees, Robert Zverina was raised in tenuous circumstances among conflicting influences that made him a lifelong skeptic and malcontent. Interests in photography and documentation were formed in earliest youth and he has spent 40 years refining the process of melding narrative with image. He received a BA in English from Cornell ('91), then taught writing and studied poetry under mentor Allen Ginsberg at Brooklyn College (MFA '94). After working as a communications professional in Washington DC and NYC, he renounced desk work altogether in favor of skilled labor in the building trades. This led to stints in architectural salvage and as caretaker of
a remote off-grid agricultural property on Maui
. As an "artist with day job," work remains a recurrent subject. He has lived in Seattle with his wife
Sarah Kavage
since 1998.
Portfolio:
www.zverina.com/i