All sales help keep Picture of the Day alive and thriving!
One time tip: https://ko-fi.com/pictureoftheday
Recurring Donations are sweet. Thanks!


BOOKS


BUZZ
A novel by Robert Zverina
Paperback: 116 pages
ISBN 1480045608

BUZZ is a dark but brilliant story. It raises the question of whether you can be somewhere yet not be there at all—the moon, a neighborhood in New York City, a country or even a life. It shows us human experience through the distorted lenses of space suits, technology, totalitarianism, immigration, wealth, poverty and alcoholism. It also shows us brief moments when those distorted lenses are pulled away and we're forced to glimpse reality in both beautiful and horrifying ways. Buzz could also be seen as a metaphor for America's (and Humanity's) two hundred year binge on technology, alcohol, drugs and wealth and what happens when that binge finally comes to an end. If you like Milan Kundera, Franz Kafka, Ralph Ellison, Sylvia Plath, Henry Miller or Flannery O'Connor, you'll like this book. It is superbly written.

Picture of the Day Selections (printed on-demand by Presto Photo)


BikeWorship
40 full-color selections from 20 years of Picture of the Day. This love letter to bicycling touches on Critical Mass, commuting, touring in Europe, urban cycling, budding romance on two wheels, and more.
40 pp, saddlestitched softcover $14.99




Don't Waste Words
32 screen captures from Picture of the Day (www.zverina.com) selected for their brevity and poetic thrust. A strong representative sampling of creative nonfiction from this pioneering literary blog (est. 1997).
32pp, flat-spine softcover $17.99

PoD XX

The digital word made flesh, 626 screen captures from the first 20 years of Robert Zverina's seminal Picture of the Day website (www.zverina.com), arranged chronologically in attractive hardcover, full-color volumes that are weighty and dense as textbooks, a perfect coffee table or bedside companion with a rich variety of photography and quirky true life stories suitable for random browsing or reading straight through.

Volume 1: 1998 - 2009
Hardcover, 298pp $135

Volume 2: 2009 - 2016
Hardcover, 328pp $135



DVDs (Don't give up on DVDs! They're the vinyl LPs of the future--archival and collectible!)
robZtv: epic video memoir
The decisive moment street photography approach of Henri Cartier-Bresson updated for the digital age. Thousands upon thousands of brief pocket video clips--each 30 seconds or shorter--capture poetic glimpses of life's unexpected beauty, pathos, and humor, organized in chronological order for narrative effect. This inimitable video series makes excellent background visuals for bands or parties. Each disc a full 120 minutes and automatically loops back to beginning. Set it and forget it. $12.99 each.

MUSIC (downloads via bandcamp.com)

SOLO






Otherwise Intelligent People is a one-man-band constantly at odds with itself over artistic differences.

S'PUNK is the real broken-hand blues, improvised into busted tape recorder, hand in cast from skateboard crash.


PNB

was Windows 95 system sounds looped in a 4-track sampler and recorded to cassette, instant 1998 obsolescence.


DUOS






Jazzmans lurches from jazz-inflected improvs to minimal post-punk jams and steps in some other genres in between.


APE

is Jesse Paul Miller and Robert Zverina at their least evolved.




WOMBAT

wants to play your divorce, feat. Ratz Riverbone & Ratwing Hamwitt.


4SHADOWS





An absurdist art collective masquerading as a rock band, 4Shadows has met weekly since 2008 to record improvised music, genre-hopping between rock, blues, metal, punk, synth-pop, psychedelia, and more abstract forms that have no name. Regular collaborators are Will Kitchen, Rich Lehl, Jesse Paul Miller, Robert Millis, Matt Wainwright, and Robert Zverina.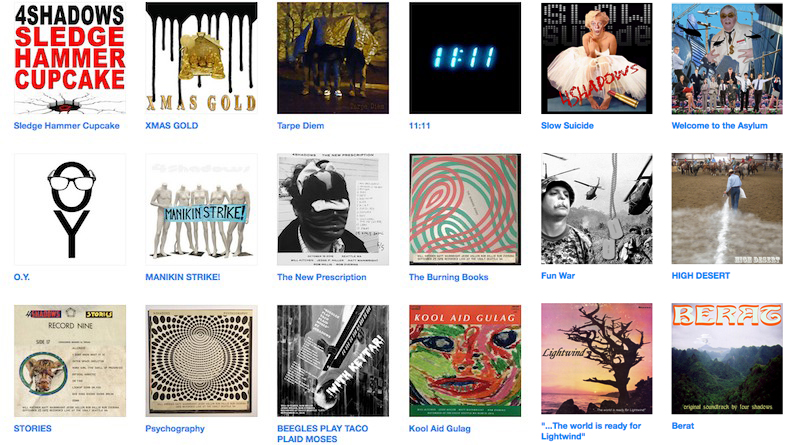 DESIGNS (created on-demand by Zazzle)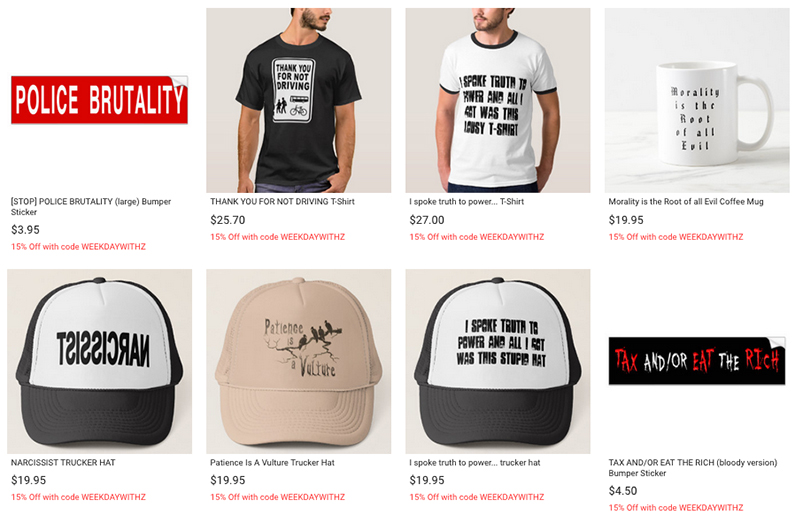 ARTWORK (direct from me to you)



All the Right Pieces in the Wrong Place, 2017
Custom jigsaw puzzle mash-up, 38"x29"
Limited to an edition of 10

Two 2,000-piece jigsaw puzzles of original photos mixed and matched by hand to create a composite image. Made to order, limited to an edition of 10, unframed, scaled pricing.

#1 $1,500 SOLD
#2 $1,500 SOLD
#3 $1,500 INQUIRE
#4 $3,000
#5 $6,000
#6 $12,000
#7 $24,000
#8 $48,000
#9 $96,000
#10 NFS



More one-of-a-kind art and custom prints coming soon!
Subscribe for updates.


back to top



copyright www.zverina.com